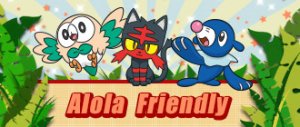 You read it right. The second Battle competition is coming to Pokémon Sun and Moon. You can sign up for this Battle Competition from the 19th of January at 00:00 UTC until 23:59 UTC on the 26th. Battles are held on the 27th till the 29th.
It is going to be a Single Battles competition with a limit of 15 battles per day. One catch, only Pokemon that are in the Alola Pokedex are eligible for entry. Of course, some things are going to be banned. A list is available below.
Banned Pokemon: Cosmog, Cosmoem, Lunala, Solgaleo, Necrozma, Magearna, and Zygarde.
Banned Moves: Memento, Doom Desire, Psycho Boost, Roar of Time, Spacial Rend, Lunar Dance, Crush Grip, Magma Storm, Dark Void, Seed Flare, Shadow Force, Searing Shot, Techno Blast, Relic Song, Secret Sword, Glaciate, Bolt Strike, Blue Flare, V-create, Fusion Flare, Fusion Bolt, Parting Shot, Diamond Storm, Steam Eruption, Hyperspace Hole, Hold Hands, Origin Pulse, Precipice Blades, Dragon Ascent, and Hyperspace Fury.
Banned items: Mega Stones.
You will get an entry gift of 50 Battle points if you decide to enter this competition. Are you pumped up to test your teams against others?